March
|
April
|
May
|
June
|
July
|
August
|
September
|
October
- - - - - - - - - - - - - - - - - - - - - - - - - - - - - - - - - - - - - - - - - - - - - - - - - - - - - - - - - - - - - - - - - -
9/22/2008 - Day 0
"Getting Relaxed"
I just left Optimus back in Connecticut and headed up to Rochester, NY yesterday. Optimus is settling back in at home and will be looking for a short term job before going back to Wheaton College for the Spring Semester. I am currently on the full time job pursuit. I plan to attend a job fair here in Rochester on Wednesday, and I also have applied to some jobs in Connecticut and New York City. Unfortunately the job market is not great, but hopefully I will find something I enjoy. I am looking forward to getting back into a routine of working and running. I have to take a little time off before I can run again though. My feet still hurt, and I should let them rest for awhile. I am not sure what my next goal is going to be, but I am definitely leaning towards the marathon!
I promised to get the pictures from the hike up online. I will probably begin production on the images page at the end of this week or early next week. I am not sure how long it will take, but I will put a post up when it is up and running. Thanks for your patience.
- - - - - - - - - - - - - - - - - - - - - - - - - - - - - - - - - - - - - - - - - - - - - - - - - - - - - - - - - - - - - - - - - -
9/16/2008 - Day 112
"The Finish at Katahdin!!!"
Its all over. We had everything we could ask for today a top the summit of Mount Katahdin. At the summit temperatures hovered in the 60s and the breeze did not go above 5mph. In other words the weather was PERFECT! At the summit we also had a group of 5 other thru hikers finishing their treks. We all celebrated with cigars, food, champagne, beer, and some good laughs.
It took Optimus and I just over 2 hours to make the 5.2 mile ascent. We just cruised up the boulder scrambles and jumped the gaps to the top. We relaxed at the top for 2 hours with everyone, and then made our fairly unique descent down Katahdin.
You see at the summit of Katahdin, thru hikers finishing their journeys have always done unique and crazy things, such as standing naked on the summit sign. Optimus and I at the beginning of the trip decided that we should wear old style 80s suits at the summit sign for our picture. So that is what we wore. Optimus wore a full bright blue suit and I wore a yellow striped suit. We got looking good comments from everyone on the mountain. But what is truly unique is that we both did the descent wearing the full suits. It was really cool descending one of the toughest mountains on the AT in suits! Even an editor for the Thru Hikers Companion in the park for the day said we were truly unique hiking down like that.
Optimus and I would like to take a short time to thank everyone that helped us in any way along the trip. Thanks to the other members of Team Excessive. Flea, Socket, CheeseWhistle, and Mr. Chips for being, well, Excessive! Thanks to our parents and family for all their hard work throughout the trip. Thanks to the trail volunteers and maintainers, the people who leave such great trail magic, and everyone who picks up the smelly hitch hikers. Thanks to our fellow late starting thru hikers Zeek the Carpenter, Eric and Mary, Horsefly, Red Flag, Gabriel, and FratDog for the company they gave us early on in the South. Thanks to Barackus and his Dad for the good times at the end. Of course, thanks for friends and everyone following along online. It really helped us push along knowing that we had other people pulling for us.
This will not be my last post, so please check back every once in awhile. I am going to head home from our hotel in Bangor tomorrow and relax awhile. I then plan to update my website with an images section that will include all our photos from the trip. This will take me some time to finish, but I promise that I will have it up as soon as I get settled down. Thanks once again for the support! Bangarang!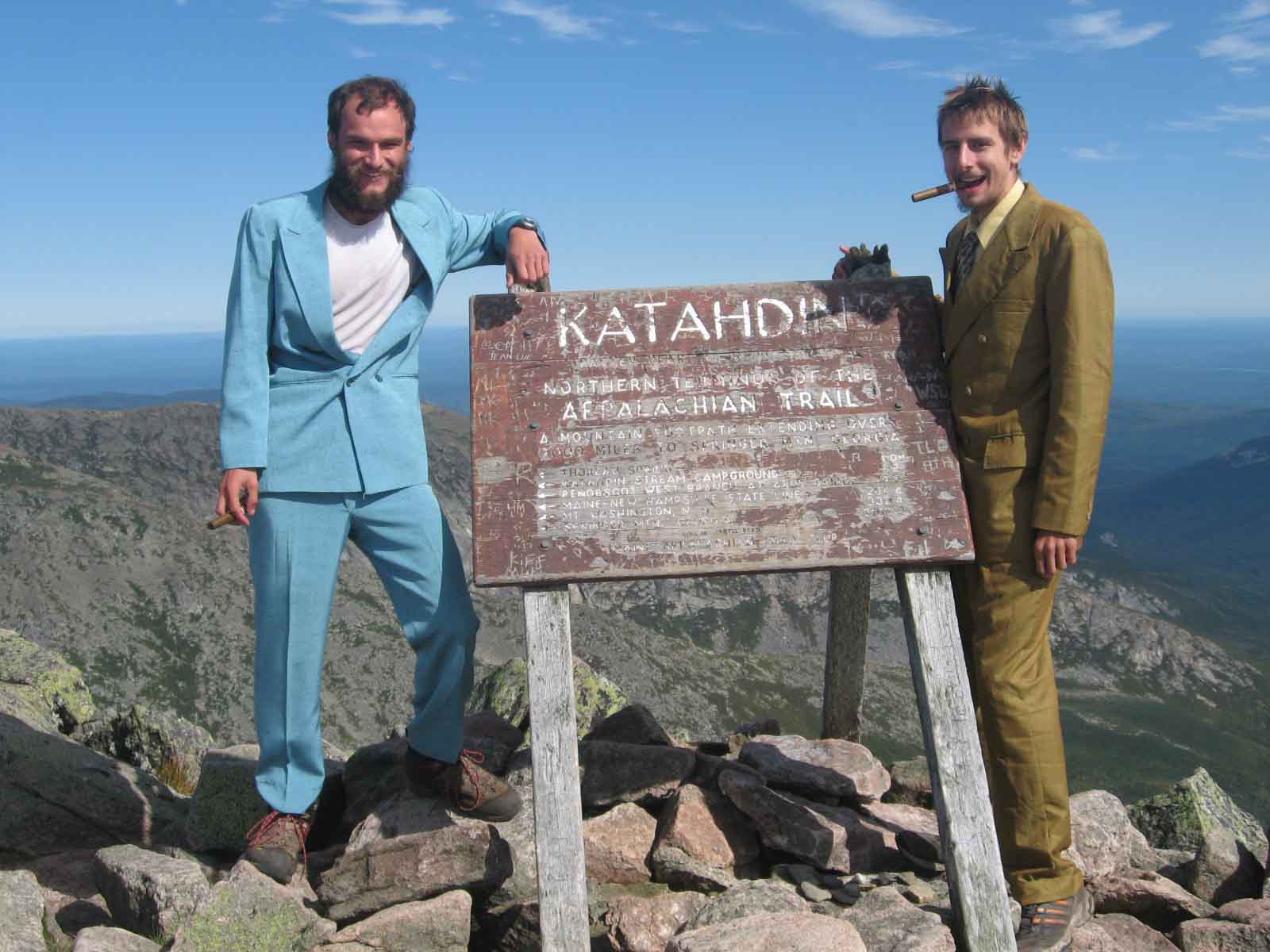 "Optimus and Turok celebrate at the summit of Mount Katahdin!"
- - - - - - - - - - - - - - - - - - - - - - - - - - - - - - - - - - - - - - - - - - - - - - - - - - - - - - - - - - - - - - - - - -
9/15/2008 - Day 111
"Last Full Day! First Glimpse at Katahdin!"
Well, this is it. This was the final time that we had to wake up before 5am and hike a full day. This was the last time we had to wear our backpacks with full gear. This was the last push to get to the base of Mount Katahdin!
We left the Rainbow Stream Shelter early once again. We had absolutely no trouble getting up this morning. We both barely slept at all. We had a good 15 miles to Abol Bridge from there. This is the Southern boundary of Baxter State Park, in which Mount Katahdin resides, the highest mountain in Maine. We arrived at Abol Bridge around 11am after the easy hike. We both got a good look at a moose too! Unfortunately we missed the opportunity to take a picture. At Abol bridge we then hit up the camp store nearby. Optimus and I decided to buy a couple things for lunch, but not too much. We did not want to have a premature celebration which could jinx the last 15 miles. So we each had a couple hot dogs, a hamburger, an egg sandwich, and a couple beverages. Nothing special as it was all premade microwavable food.
After lunch at Abol Bridge we then had about 10 miles to The Birches Shelter just at the base of Katahdin. My left ankle started to bother me for these miles, but I wrapped it up and hiked through the slight discomfort. I figure if I made it this far a few miles of discomfort will be fine. We ended up making it to the ranger station and Birches Shelter at 4pm. Just as the rain began to start. We both signed in and I have become a thru hiker, Class of 2008! Number 258 so far. Like previously mentioned Optimus has to make up some miles which he plans to do in the future to become a 2000 miler, which is someone who hikes the entire trail in more than one season. However, we both still have to climb Katahdin tomorrow to truly finish the trip. At the summit we will be able to get our picture taken at the famous Katahdin Summit Sign! Only then will we have officially ended our trip, hiking 2176 AT Miles, from Georgia to Maine!
After the sun set, Barackus showed up to the shelter with his Dad and sister. It was really cool. They brought in some beers and we talked about the trip and how much we enjoyed ourselves throughout. It was a great way to spend our last night on the trail!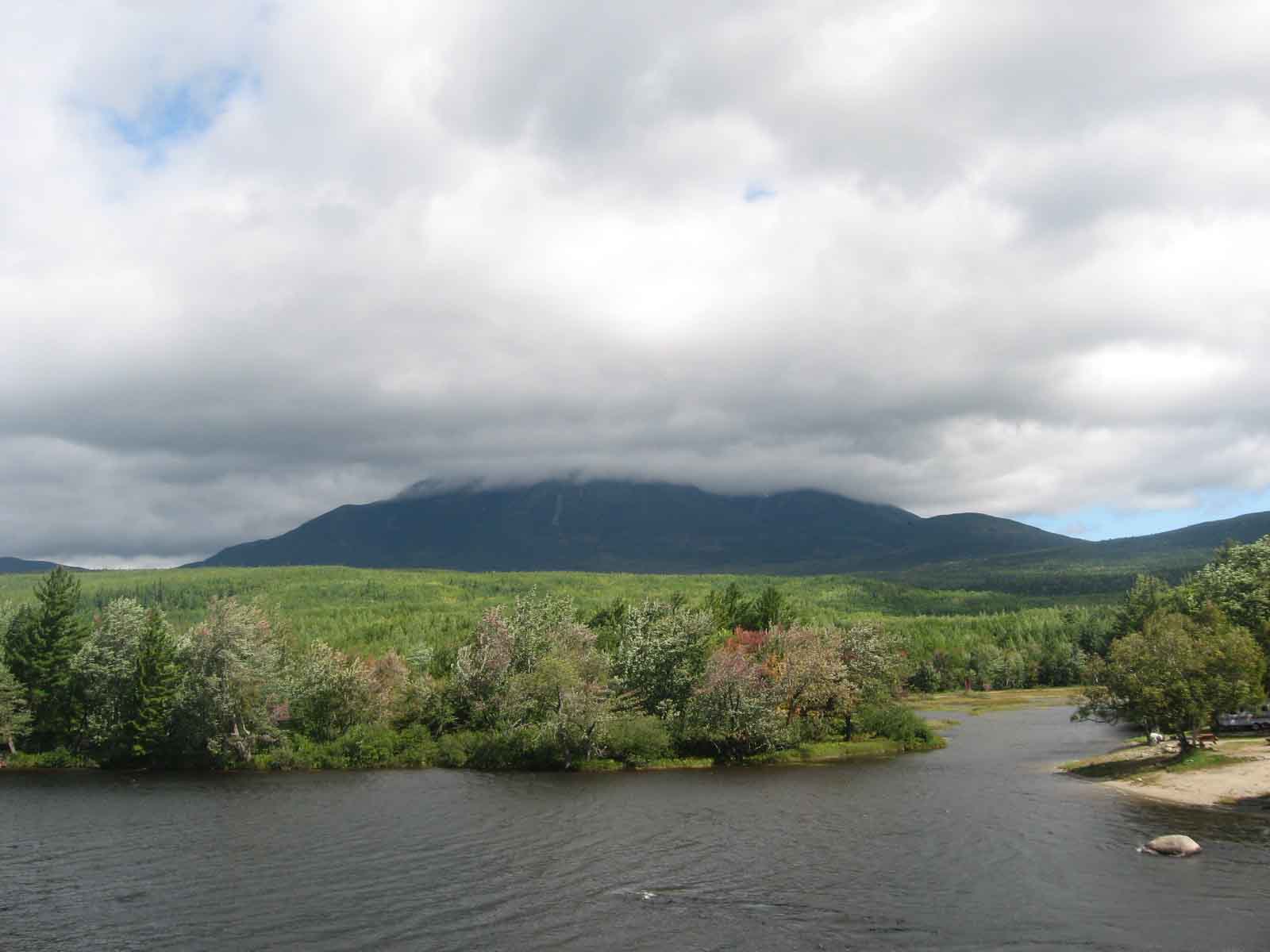 "Team Excessives first view of Katahdin from Abol Bridge. The cloud covered the summit throughout the day."
- - - - - - - - - - - - - - - - - - - - - - - - - - - - - - - - - - - - - - - - - - - - - - - - - - - - - - - - - - - - - - - - - -
9/14/2008 - Day 110
"Moving quickly!"
It did end up drizzling a bit today, but the weather overall was not entirely too bad. No sunshine at all again, but we ended up staying fairly dry without the use of our ponchos, and also the temperature was comfortably in the 60s. Tomorrow calls for a chance of rain again, but Tuesday looks like a good day for climbing Katahdin!
We were up early today, well before sunrise. We ate our oatmeal and packed up and were hiking by 6am. We moved quicker today than any other day in the Northeast. We just cruised along over the flat terrain with absolutely no problems. The only incident that occurred was my right foot slipping into a stream. There was not too much to look at today as the viewpoints were all clouded in, but some of the lakes we passed by were expansive and had nice beaches. We ended up hiking just under 30 miles from Cooper Brook Falls Shelter to Rainbow Stream Shelter, and we finished before 5pm! This is the first time we had ample time to relax since entering New Hampshire.
We hiked with another thru hiker named Barackus who also plans to finish this Tuesday, on his 26th birthday. We started by passing one another on breaks in the morning, and eventually just hiked together by the end of the day.
It feels really weird to be this close to finishing the trip. Tomorrow will be our last full day of hiking! We are looking forward to lunch at the camp store 15 miles from tonights shelter, before heading to base camp at the Birches. Then we will have a 5 mile straight up climb to the summit of Katahdin, with a similar descent. My Mom and Optimus parents will both be meeting us before and after our climb. We will then celebrate with a food filled night in Bangor, and travel home on Wednesday.
We are almost there. Mileage left on the AT equals 30.1. Less than 1.5 percent of the total trail.
- - - - - - - - - - - - - - - - - - - - - - - - - - - - - - - - - - - - - - - - - - - - - - - - - - - - - - - - - - - - - - - - - -
9/13/2008 - Day 109
"Getting really close."
The rain did decide to stop by the time we awoke in the morning. However, the sun never really managed to come out until after 5pm, and by that time it was to low in the horizon to dry anything up. So throughout the day we were walking over wet rocks and roots again. But at least it was not raining. The terrain throughout the day was also much better than yesterday. The technical difficulty of the ascents and descents was just so much lower. I even made it through the day without a fall!
Today was a great day overall. We hiked 29.2 miles from the Chairback Shelter to Cooper Brook Falls Shelter. We met some really interesting people including a Ridgerunner that attended UofR, and a couple older guys at the shelter. We also cleared the Whitecap Mountains. This is the last real mountain range on the AT. We have only one more mountain between us and Katahdin!
The rest of the hiking should be much easier for us. The only problems ahead that I can predict as possibilities are flooded and muddy trails, and slippery roots and rocks. The weather forecast also does not look great for the next two days, but we can hope that the rain will stray away.
- - - - - - - - - - - - - - - - - - - - - - - - - - - - - - - - - - - - - - - - - - - - - - - - - - - - - - - - - - - - - - - - - -
9/12/2008 - Day 108
"Hey it is raining again!"
We entered the 100 mile wilderness this morning. We were greeted by a sign forewarning people to carry at least 10 days of supplies. We have 5 days and the plan is to try to make it in 4.
Todays weather was annoying. The morning consisted of threatening overcast skies. I did not want to believe that it was going to rain, but I knew in the back of my head that it was going to. After the morning session of up and down hiking and fording streams we headed up Barren Mountain to start through the first set of mountains in the wilderness. Of course on that first ascent it began to rain and from that point on, it has not stopped. The hiking through the mountains was not physically demanding compared to many other days, but it was technically difficult due to the slippery rock faces and roots. Every step had to be well thought out to prevent a bad fall. Throughout the day we ended up climbing over the Barren, Fourth, Third, and Columbus, Mountains. We also passed through the fourth mountain bog. Optimus spotted pitcher plants for a second time, but as with in New Hampshire, could not get a picture because the camera was packed away due to rain.
In total we went just under 26 miles from Monson to the Chairback Shelter. Right on pace with our schedule. As we lay down to sleep it continues to rain. I am really praying for some sunshine to wake us up in the morning.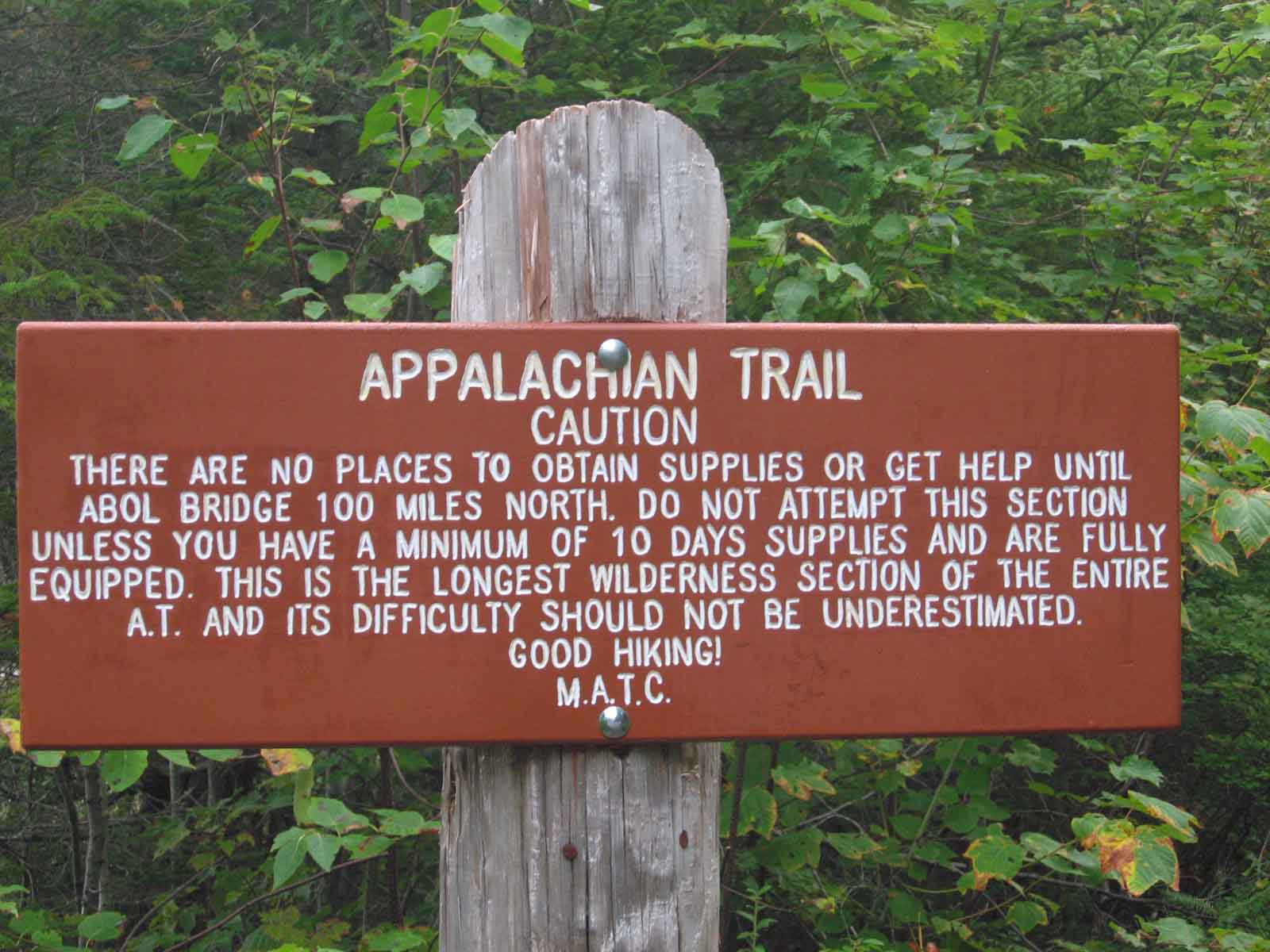 "The sign at the start of the 100 mile wilderness."
- - - - - - - - - - - - - - - - - - - - - - - - - - - - - - - - - - - - - - - - - - - - - - - - - - - - - - - - - - - - - - - - - -
9/11/2008 - Day 107
"Cold morning. Into Monson!"
I did not think it got this cold in September. But I guess in Northern Maine it does. There was actually frost on some of the plants a top Bald Mountain! So that means that temperatures when we woke up in the morning were in the lower 30s! We ended up wearing all of our cold gear that we brought. For us that includes a hat, gloves, under armour, shirt, fleece, and pants. Of course after walking about 1 mile uphill we had to strip some of it off because we started sweating. But man, it is extremely difficult to get out of your sleeping bag when it is that cold out.
We had what seemed to be a fairly easy day today. 22 miles to the road which leads to Monson. We left just after 6am and arrived in town around 3pm. So not too bad of a trek. For the majority of the hike we followed mountain streams and rivers. We actually had to ford two streams today, though the two fords were short and only about knee high. Besides the two fords, we also hit two trail magic coolers. These had sodas, juice, and even candy! It was a great treat to help us push to town.
We arrived in Monson at 3pm from a hitch in the back of a pickup. We hit up the General Store for some supplies and headed to the hostel Shaws in town. We quickly settled down in our room, took showers, did laundry, and packed our bags. After accomplishing this we watched a little Seinfield on TV and headed to a the Lakeshore Restaurant for AYCE Taco Night! We enduldged in as many tacos as we could eat, and had a few beers in the process.
Today was a great day with a chilly start. Tomorrow we head off into the 100 mile wilderness. Then onto Katahdin within Baxter State Park. We planned to hike 110 miles in 4 days to get to the base of Katahdin. Then on the 5th day we climb the 5 miles to the summit and officially end our hike! Hopefully all goes well.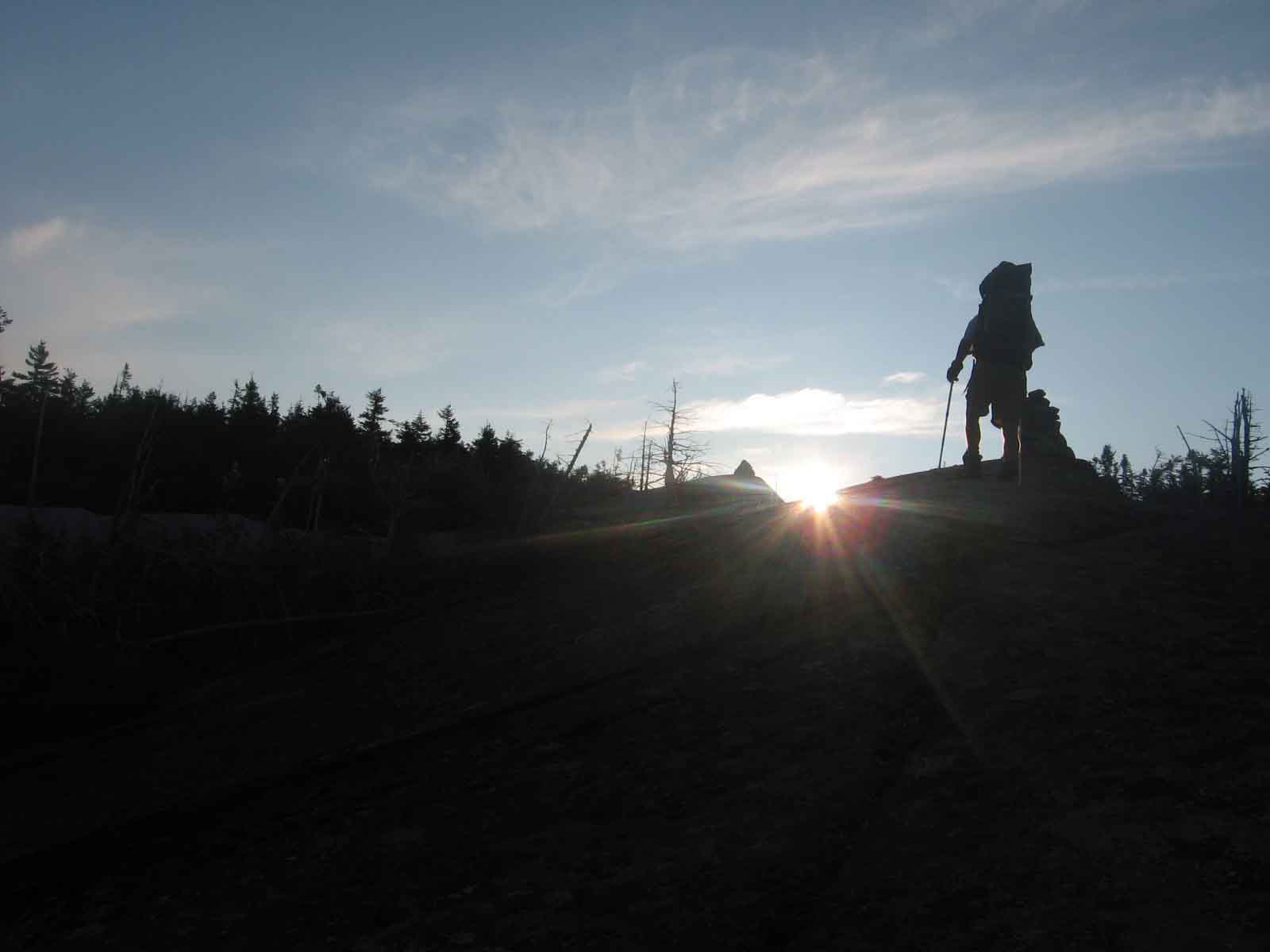 "Optimus walking along the summit of Bald Mountain in the early morning."
- - - - - - - - - - - - - - - - - - - - - - - - - - - - - - - - - - - - - - - - - - - - - - - - - - - - - - - - - - - - - - - - - -
9/10/2008 - Day 106
"Across the Kennebec."
When we woke from the West Carry Pond Shelter we were hoping to see clear skies and a sunrise. We were definitely fortunate with a nice, cool, and clear morning! It rained a bit the during the night, and it made me nervous.
We had a great 29 mile day today! The weather in the early morning continued throughout the day and it was awesome. We were out hiking early to catch the Kennebec River Ferry before the morning shuttle stopped running at 11am. We ended up pushing almost 14 miles before 11 to catch the canoe across the dangerous river. The Kennebec River is the only water crossing on the AT that you need to be shuttled across for safety. Back in the 1980s a hiker was drowned from the rising flood waters that were released from hydroelectric plants upstream. After the neat river crossing we hit US 201.
At the US 201 road crossing we decided to take a break from the long, rushed morning hike. We hitched a ride in the back of a pickup and headed 2 miles down road to the Northern Outdoors Restaurant. At the restaurant we dried out our wet shoes outside and had a small feast inside. We split an appetizer of nachos, Optimus had a rib special, and I had a 8oz burger. At the restaurant we also got some trail magic from two other hikers. They gave us their extra food which consisted of freeze dried desserts, cookies, and an assortment of candy. After all that we both put our dry shoes on and looked for a hitch back to the trail
After 5 minutes a woman in a Honda Insight pulled over and picked us up. She was the same person that gave us a hitch to Rangeley, and once again Optimus volunteered to squeeze in the back. The woman driving has been helping her daughter along the trail in Maine since her knees have been bothering her.
We got to the trail head and had about 15 miles left to our destination at Bald Mountain Shelter. We ended up arriving there by 6pm, and had a good time talking to other hikers, and eating all our treats that were giving to us.
The plan for tomorrow is to get up early again, and head out for the small town of Monson. There we can resupply for the last time on the trip, and relax a little bit!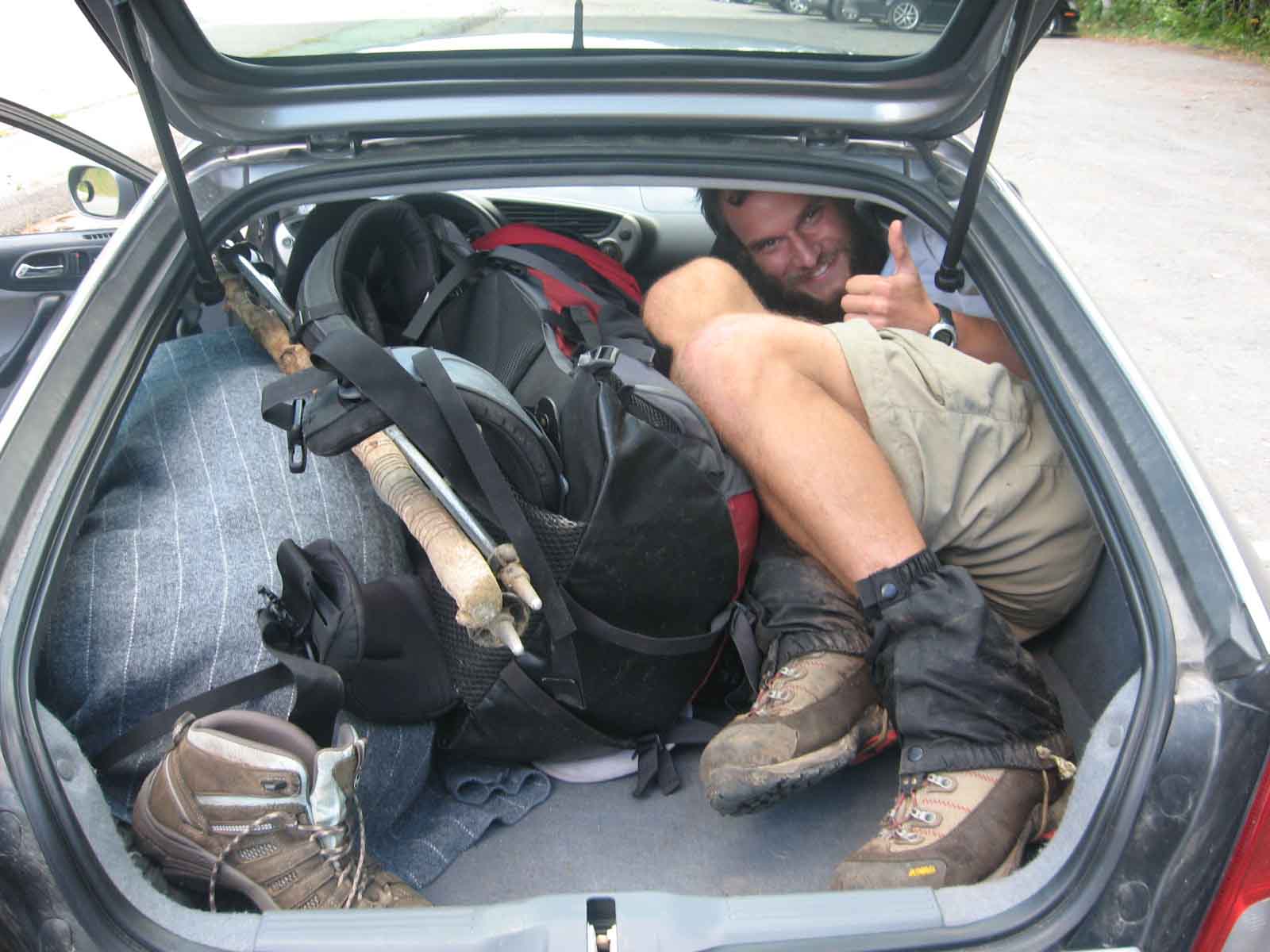 "Optimus squeezed in the back of the Honda Insight once again."
- - - - - - - - - - - - - - - - - - - - - - - - - - - - - - - - - - - - - - - - - - - - - - - - - - - - - - - - - - - - - - - - - -
9/9/2008 - Day 105
"Not a Nice Day..."
Today was not a good day. We packed up early in the morning to a cold light drizzle, and the rain did not cease thereafter. Besides being cold and wet throughout the day, it was also windy on all the mountain tops. Our ponchos did not stand a chance. It was just a bad day to go for a hike.
Despite the bad weather, mountains, and also slippery muddy terrain, we managed to hike a 30 mile day. It was really miserable, but at least doing that proved that we can do 30 miles through anything. Throughout the day we climbed both South and North Crocker Mountains, and the many peaks of the Bigelow Mountains. It was a lot to handle in the weather conditions, and I am glad we are through that.
Tomorrow we plan for another 30 day. But the terrain gets better and there is only one mountain. We plan to get up early, cross the Kennebec River on the Ferry (a canoe) in the morning, hit up a restaurant, and keep on going. Hopefully it will be a sunny day.
- - - - - - - - - - - - - - - - - - - - - - - - - - - - - - - - - - - - - - - - - - - - - - - - - - - - - - - - - - - - - - - - - -
9/8/2008 - Day 104
"Nice Day!"
We got a good nights rest last night at the Gull Pond Lodge and awoke from our beds around ten of six. Optimus and I had a good breakfast of some of the leftovers from the weekend which included pizza, eggs with cheese, and donuts. We unfortunetly had to leave behind 4 corndogs. I am sure they will be devoured quickly. We then packed into Bobs Suburban and hit the AT.
Most of the day was nice and chilly with little sunshine. However, there was just enough sun by mid afternoon to somewhat dry out the wet rocks. During the morning it was miserable descending the moutains. All the rocks and roots were really slick, and I would not be surprised if I cased it to the ground more today than the rest of the trip combined. Optimus faired it a bit better than I did with his boots, but he even fell a couple times.
Besides the slippery morning and one steep descent off Sugarbush mountain in the afternoon, the day was quite alright. We traveled 25 miles by 6pm and had a relaxing evening at the Crocker Cirque Campsite. Throughout the day we cleared several mountains including the Saddlebacks, Lone, Spaulding, and Sugarbush. Tomorrow will be another day jam packed with mountains, but after that the AT begins to level out. Bangarang!
- - - - - - - - - - - - - - - - - - - - - - - - - - - - - - - - - - - - - - - - - - - - - - - - - - - - - - - - - - - - - - - - - -
9/7/2008 - Day 103
"Last Zero."
We are officially through our last planned zero day on the trip. Unless we are really beat up when we reach Monson then we should not need another full day off. We basically did absolutely nothing today. We ate a lot of food, watched some football, and vegged out on the sofa. It is the true purpose of a zero day. Relax, recover, and get ready for the trail ahead.
In the next 8-10 days we plan to be at the base of Katahdin. This is where we will have to wait until the next morning to climb to the summit and officially finish the hike. Weather conditions can be really harsh on the summit, so an extra day of hiking must be reserved for Katahdin. Leaving early in the morning makes it possible to avoid harsh conditions in the afternoon.
To reach the base of Katahdin we still have a bit of work. There are 215 miles ahead of us to the base, but there are also 1956 miles behind us to Georgia! There are several mountains ahead including Saddleback, the Bigelows, and White Cap. But there is also a lot of flat terrain ahead that will help rest our legs. The only issue with this is that if a lot of rain from these hurricanes keep hitting Maine, then we will be spending most of our time jumping mud puddles. This would probably slow us down as much as any mountain would. So we hope that the rain holds out for the rest of the hiker season. The Northeast was already pummeled with enough rain in July.
So 220 miles in total to finish, just 10 percent! Several mountains. Lots of ponds and lakes, and hopefully, very little rain, and no snow.
- - - - - - - - - - - - - - - - - - - - - - - - - - - - - - - - - - - - - - - - - - - - - - - - - - - - - - - - - - - - - - - - - -
9/6/2008 - Day 102
"As the finish nears."
I love the Nero days. Today we only had to hike 5 miles! Most of which was easy flat terrain with a few roots to jump and a little mud here and there. We got to the road by 9am and hitched a ride to the IGA supermarket. The car was a Honda Insight, a tiny two seater, so Optimus had to lay down in the back hatch over the battery housing.
At IGA Team Excessive lived up to its name. We bought 75 dollars worth of food for the two days that we would be in town at the Gull Pond Hostel. We got breakfast food for egg sandwiches, frozen pizzas, burgers, chips, donuts, Arnold Palmer Arizona ice teas, along with some other things. However, I believe that we have to make a return trip on Sunday. We nearly ate everything already.
The town of Rangeley is a nice small town with a quaint Main Street strip of restaurants and antique shops. It is surrounded by beautiful lakes and ponds, and the Gull Pond Lodge is right on shore. Bob the owner is a great guy! He opens up his home to hikers every season, with beds, kitchen, and Direct TV. It is a great place for Optimus and I to Nero and Zero.
Like I mentioned earlier, we spent most of the day eating. We cooked all of our own meals and it was quite nice. It has been awhile since I have cooked with my girlfriend Rachel up at school, and it feels good to make some great burgers with all the toppings. While devouring the food we spent the day watching TV and also talking with some of the other house guests. Most of them are spending their time hiking the Maine section of the AT. A couple others are fellow thru hikers.
I guess this is as good a time as any to discuss some more serious things during the trip. It has been great that I have had company throughout the majority of the trip with my hometown friend Optimus. We have been getting on each others nerves a bit more lately, but that is understandable. We spend every moment together, and sleep inches apart in a tent that is uncomfortable for one. Trust me, that is no fun with 7+ days of hiker sweat caked on your body. It is unfortunate that he had to get hurt a couple times earlier in the trip. He ended up missing just under 500 miles of the trip while I pushed ahead. He has told me he is fine with this and feels that it will be a great opportunity in the future to go on week long hiking trips and finish the trail. My pushing on ahead was a thing that had to be done. Our goals were set high, and we did not want to stray far from schedule, making our chances of finishing more unlikely. Optimus and I both understood the high risks of injury from the start and knew that having to leave one behind in order to recover, was a high possibility. I hope that we will both finish the trip at Katahdin without any trouble ahead. It will be an accomplishment to see both of us come as far as we have!
On another note this trip has provided me with a lot of time to think. As you walk for 8-12 hours a day you cannot always be talking with one another, so you end up either singing a senseless tune in your head over and over, or you think of the future. I have spent so much time thinking about everything. I always think of what the future will hold. A Job? Where? Will I start running again? Have I permanently changed my perspective on life? When I finish, I hope to come home, spend time with family and friends, and see my girlfriend who I miss endlessly. We have been together almost 3 years and it will be great to be back with her in a couple weeks! But first things first, I will enjoy being home with my Mom and seeing my Dad and other family members. They have all been supportive of this trip and my Mom, along with Optimus and his parents, have been crucial to our mail drops, and shuttles during break. Without them, and their trips to Sams Club, EMS, Wal Mart, and the Post Office, this trip would not have happened.
I also want to thank anyone that has been following along online. I have gotten several emails from supporters, and I have had over 2000 unique visitors since I started the website! It may not sound like a lot, but for me and a website originally designed to be viewed by only a handful of people, it is great! Thanks for your support and feel free to email me any questions or comments. My email address is at the bottom of the website within the footer.
I know that we still have 10 percent of the trail ahead of us, but I thought that this might be our last break with a lot of down time to write up a blog. Optimus and I will likely be busy for the rest of the trip. Tonight and tomorrow we will rest well and by Monday morning we will be ready to tackle the rest of Maine!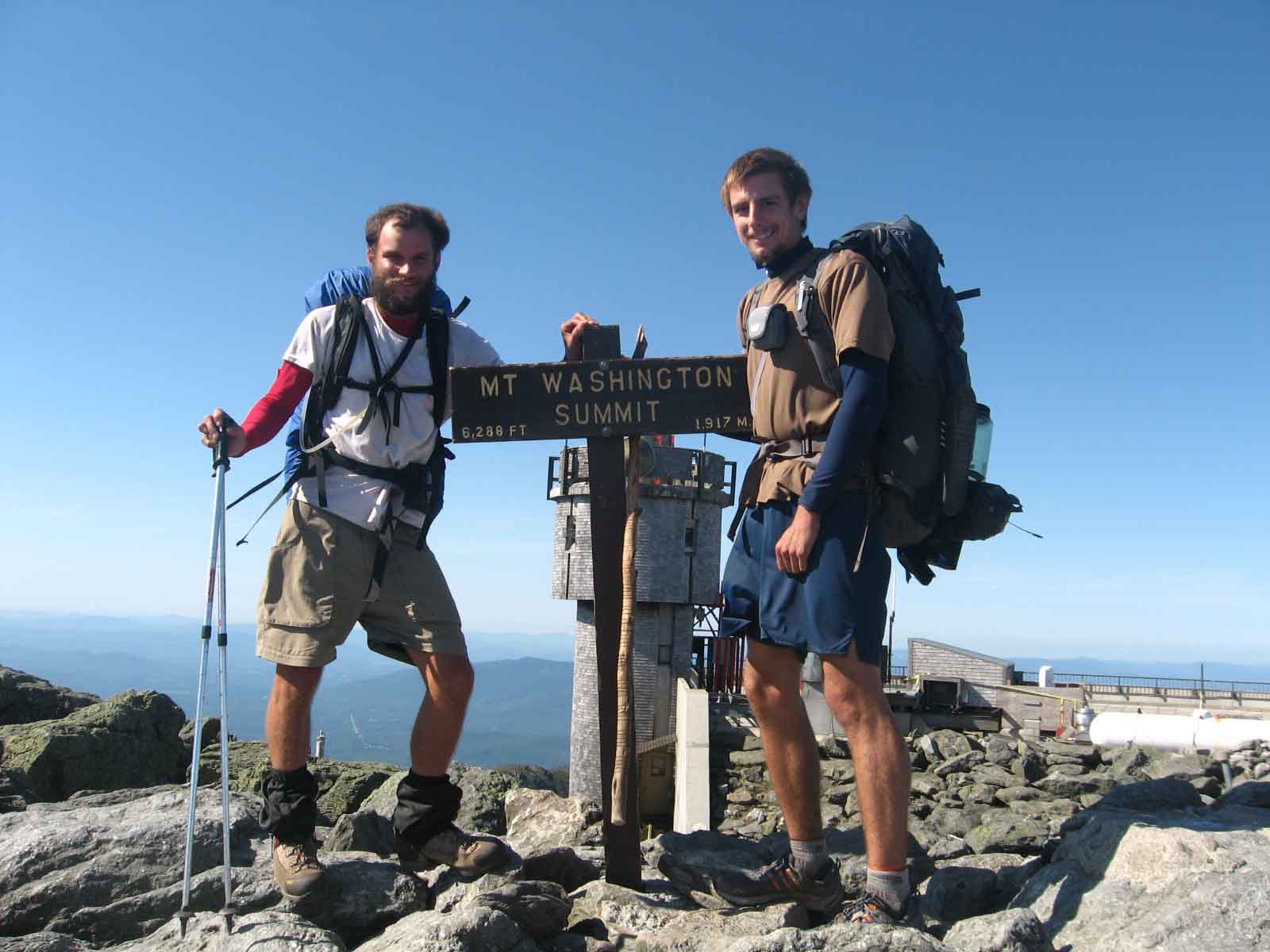 "Optimus and Turok on Mount Washingtons Summit this past Monday. "
- - - - - - - - - - - - - - - - - - - - - - - - - - - - - - - - - - - - - - - - - - - - - - - - - - - - - - - - - - - - - - - - - -
9/5/2008 - Day 101
"Really Long Day..."
We really ran ourselves into the ground today. We had 36 miles until Rangeley this morning and now at 9pm we are under 5 miles from the road to town. So we ended up pushing over 31 miles. It was not too much fun today either. There were some easier sections that did not consist of climbing a mountain, but the majority of the day was climbing hills, jumping over roots, or in my case, stepping into mud puddles.
To make matters worse we are lower on food than we ever have been before. The tough terrain slowed us off pace, and for that reason we ran low. We had to ration out everything so we would not starve towards the end of the day today. Luckily we had just enough to somewhat satisfy our appetites. And we still have oatmeal and snickers bars for the short hike into town tomorrow.
Maine is a state that stands out among all the others. There is water everywhere, and every stream crossing means a big climb right up ahead. One climb today up Moody Mountain was so steep that a landslide occurred just a few weeks earlier. The ponds are seemingly untouched, and the wilderness seems to be completely uncorrupted by the human presence that passes through. Optimus and I only saw a small handful of people today as we hiked. This is really unusual on such a long hike on the start of a weekend. We have heard that Maine will offer a lot more throughout the rest of the trip. On to Rangeley tomorrow for a Nero and a Zero Day!
- - - - - - - - - - - - - - - - - - - - - - - - - - - - - - - - - - - - - - - - - - - - - - - - - - - - - - - - - - - - - - - - - -
9/4/2008 - Day 100
"The Mahoosucs. No big deal right?"
Very hard day today. Not like in the Whites where you expected it to be bad, but an unexpected jolt. We knew that Western Maine was not to be underestimated, but some of the hiking is harder than the Whites. We ended up hiking about 24 miles to Dunn Notch and a waterfall right on the trail. We set up camp just before dark.
We began our day with several mountain climbs which of course were straight up and rocky. At 6 miles we descended into Mahoosuc Notch. This is a really tough boulder scramble that is 1 mile long. It took us around 45 minutes to hop through and travel under the boulders. Overall it was fun, but very tiring. After the notch we traveled up Mahoosuc Arm and got beat up pretty bad. It was a long uphill with many rocks to move around. Throughout the rest of the day we had other really hard climbs with steep rock faces, such as Baldpate Mountain.
Right at the end of the day we ran into our old friends Eric and Mary heading South. They decided to Flip Flop from Harpers Ferry and head back towards West Virginia from Maine. Hopefully they have a good time in the Whites and end up enjoying the views like we got to. We are really anxious to get to Rangeley on Saturday for some relaxation time, and will enjoy some beers and food in the process.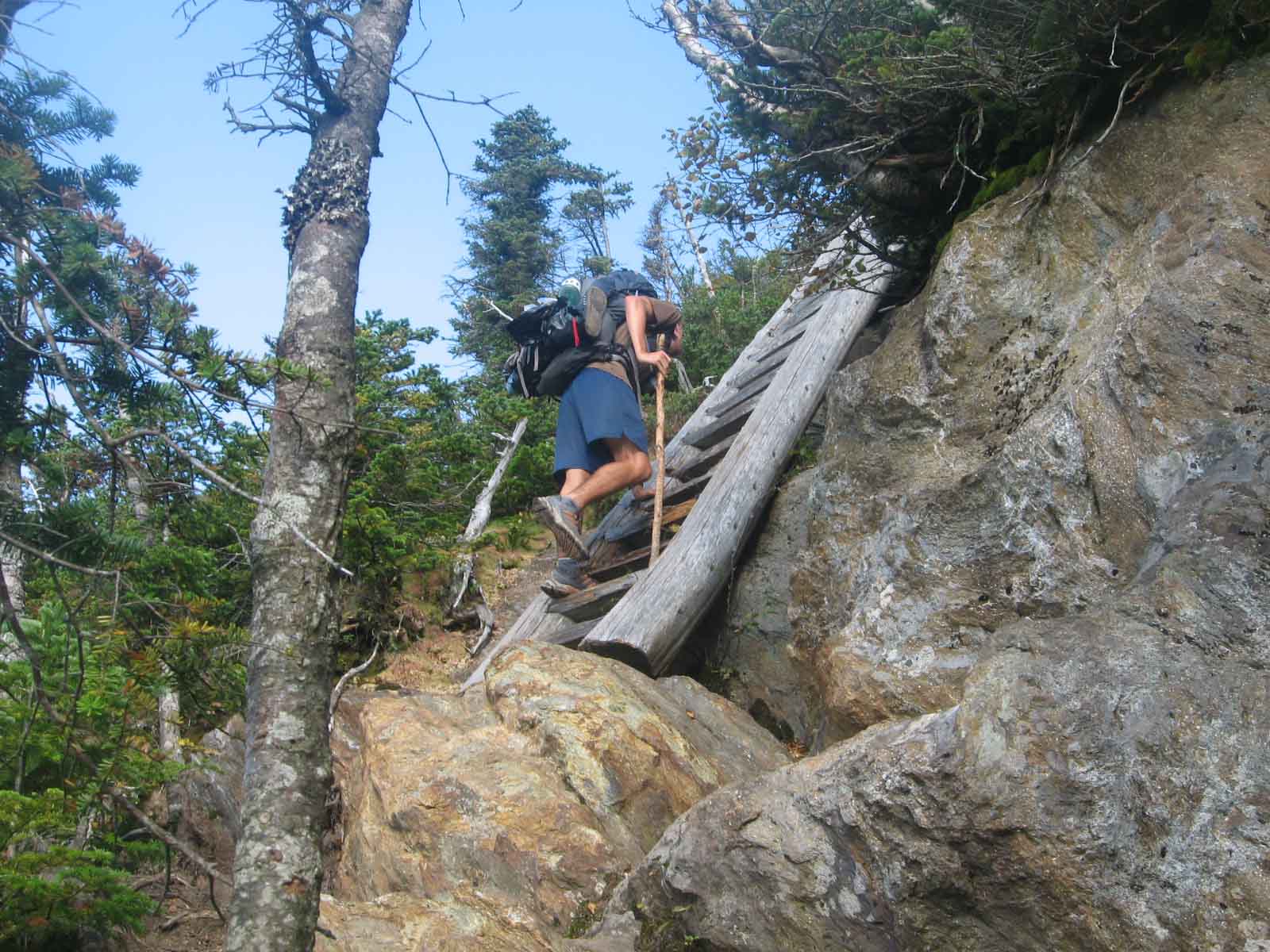 "Turok climbing stairs up a steep climb."
- - - - - - - - - - - - - - - - - - - - - - - - - - - - - - - - - - - - - - - - - - - - - - - - - - - - - - - - - - - - - - - - - -
9/3/2008 - Day 99
"We walked to Maine!"
We are no longer within the White Mountains! It feels good to get them out of the way. However, we still have some tough climbing to do through the first 100 or so miles of Maine.
We traveled a good distance today from the Imp Shelter to the Carlo Col Shelter in Maine!!! We just crossed over the border at the end of the day. In total we ended the day at 25 miles. In the morning we hiked 7 miles and hitched a ride to Gorham NH. We had to get resupplies and decided to get some fast food as well at the last possible spot heading North. We heard from people heading South that there is no fast food on the AT in Maine. After getting back to the trail we had to hike another 18 to get past the border so we had to go hard as it was past Noon. I felt terrible for the first 3 hours and felt dehedrated after the first climb. After awhile, after drinking a lot of water, we both started trucking along and arrived at the shelter before dark.
It feels really good to enter the final of fourteen states on the trail. We have heard from many that the trails ahead are one of the best parts on the trail. I am excited to enter Maine, and also to get one step closer to our final destination.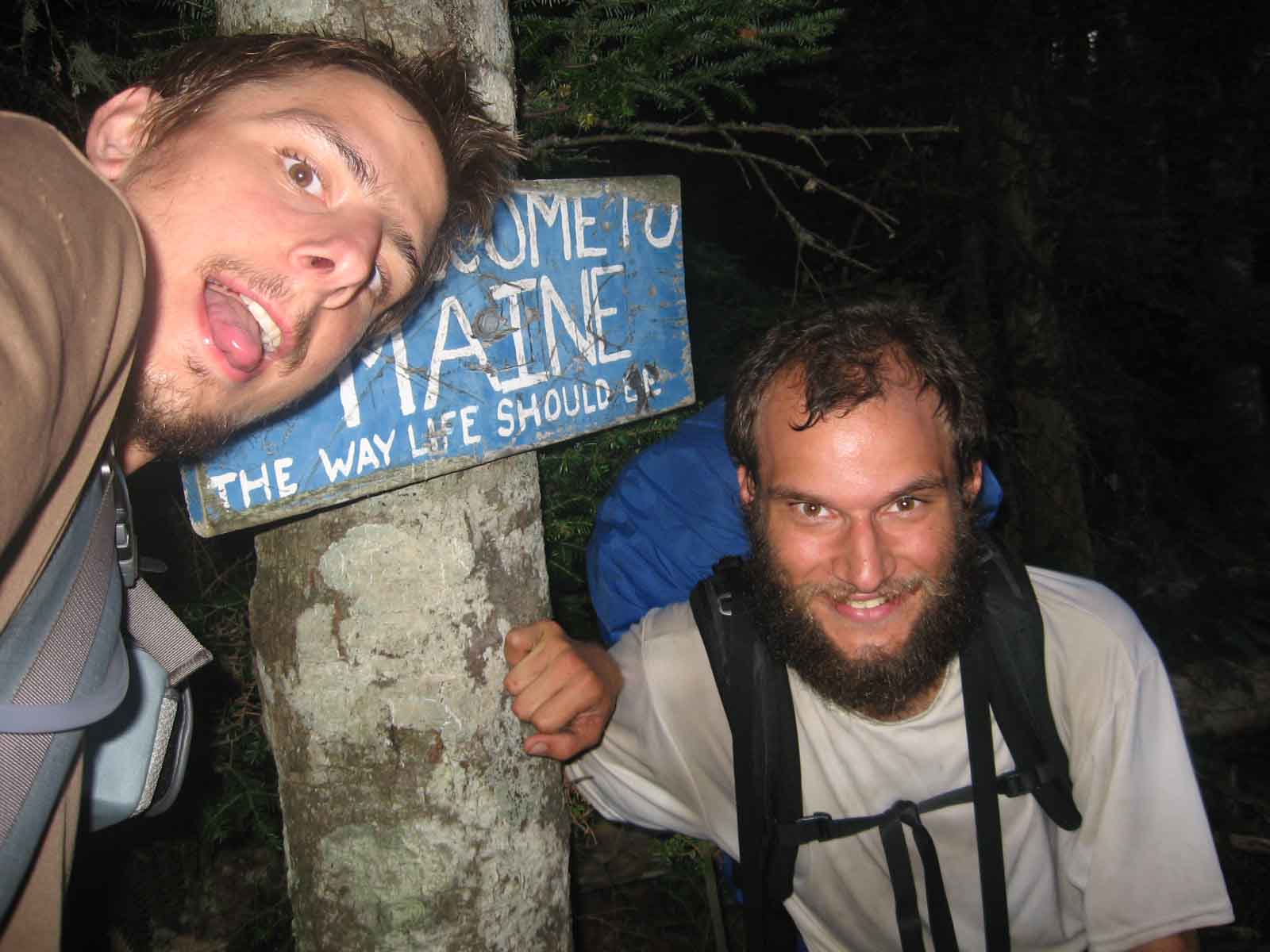 "Turok and Optimus at the Maine State Line!"
- - - - - - - - - - - - - - - - - - - - - - - - - - - - - - - - - - - - - - - - - - - - - - - - - - - - - - - - - - - - - - - - - -
9/2/2008 - Day 98
"Up and Down. Over and Over."
The White Mountains are now taking a toll on Optimus and I. There are just no breaks at all. The entire day today consisted of really aggressive steep uphills and downhills, with much less vistas than yesterday. Taking more frequent or slightly longer snack breaks is the only way to get a break from the terrain. So the two of us are ready to get out of the state and head into Maine.
Today we went from Madison Spring Hut to the Imp Shelter. We tended to waste a lot of time during our breaks and that hindered us from getting the mileage we wanted. So we only ended up hiking around 20 miles. Though in the Whites, that is considered a good day by most. Our breaks were long because we both felt tired. Its possible that the pizza and breakfast the day before did not settle in our systems well. We did make our way across Wildcat mountain today, and could not help but think of Ratatat as well as Cheesewhistle and his roar.
We arrived at the Imp Shelter around 6pm. We each had to pay 8 dollars to stay which kind of stinks, but we were just too tired to move onward. The trip is starting to wear on us a bit, but hopefully things will go much better tomorrow as we say goodbye to the whites.
Just a Warning: As we enter Maine I expect little to no cell service, as towns are farther apart. So expect longer delays between posts. Thanks.
- - - - - - - - - - - - - - - - - - - - - - - - - - - - - - - - - - - - - - - - - - - - - - - - - - - - - - - - - - - - - - - - - -
9/1/2008 - Day 97
"Mount Washington!!!"
Today was a mix of being really tired and feeling really good. We awoke from our tent around 5am, packed up, and headed down to the road to hitch to the AMC Highland Center. At the road we had to wait around 20 minutes for a ride. It is not because we looked like axe murderers, but because only 6 cars passed in that time. A tour guide from the AMC Center, on her way to work, was the one that picked us up. The AMC is a large estate that can hold upwards to 120 guests. It looked like a nice place to stay. We got in just before 7am and got the AYCE breakfast. It was awesome. Everything that I was wishing for was there including pancakes, hash browns, and BACON! After that we hitched back to the trailhead and headed up towards the presidential mountains.
The weather today was absolutely stunning for this hike. The presidential mountains have the best views on the entire AT, and we had clear skies the entire day. We started by climbing up to Mount Webster. It was of course another long climb, and we kind of felt groggy and tired going up it. The mountain side had some great cliffs that overlooked the valley below where we came from. After the morning climb we felt energized, and headed over Mount Jackson, Pierce, Franklin, and then Washington! These were all magnificent mountains with the views of Washington at 6200 above them.
We peaked Washington mid afternoon and took our time at the snack bar having a couple slices of pizza. We enjoyed our final view on the trail from above 6000 feet and headed 6 miles to Madison Hut.
After a tiring late afternoon hike we arrived at the hut. We talked with another thru hiker named Zephyr and decided to do a Work-For-Stay. This basically means that we washed dishes for 45 minutes, and in exchange we could sleep in the dining hall. Its a good deal, as being outside in the wind tonight would be really bad.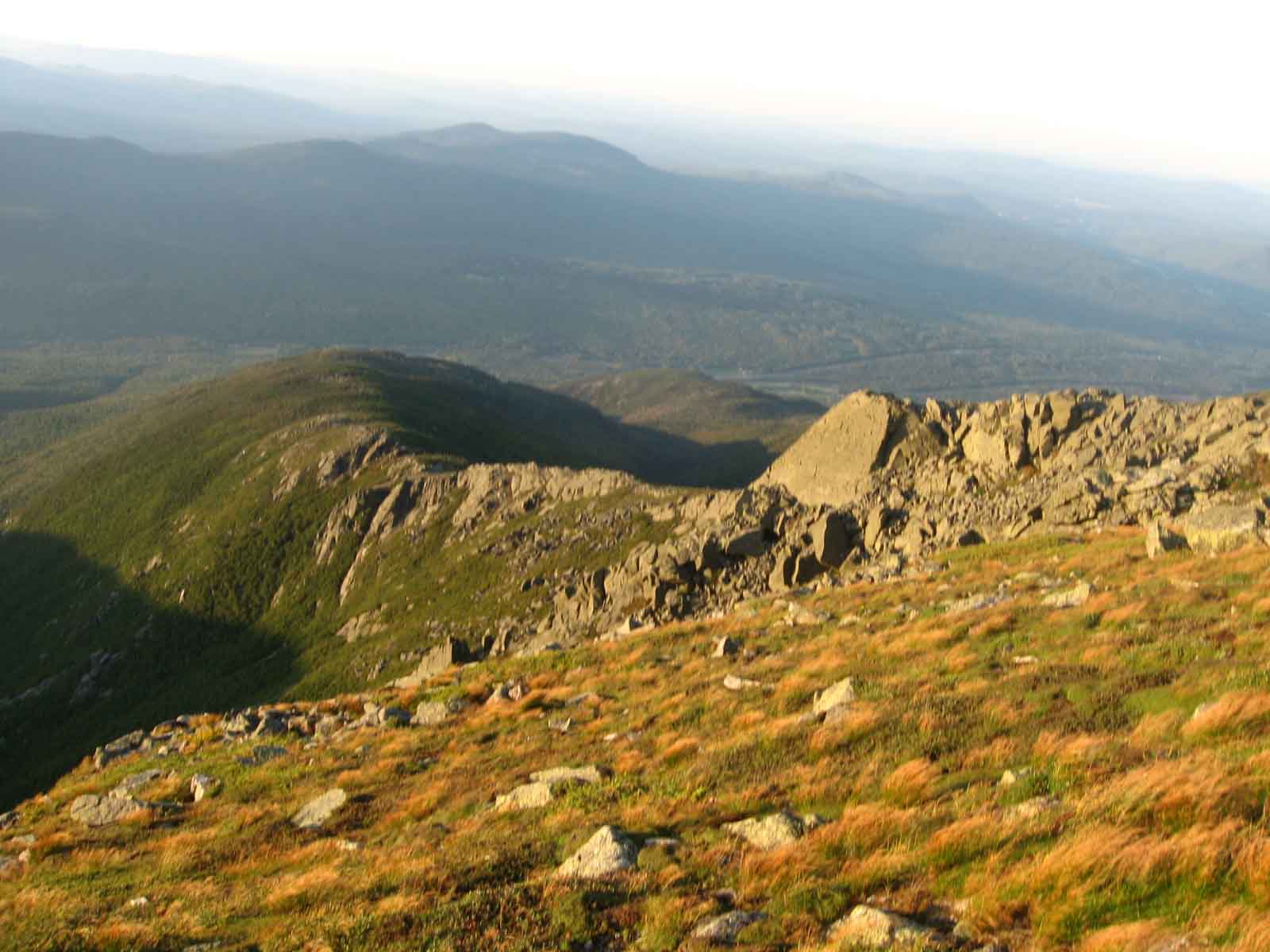 "One of the many views that we had today."